Je n'ai publié aucun article depuis octobre... mais j'ai pourtant beaucoup travaillé, presque tous les jours après le travail j'ai sculpté, découpé, garni, doré, peint en vue de l'exposition du SIMP. L'idée de présenter mon travail avait germé lors de la visite du salon en juin 2016 et la décision fut prise au début de cette année puisqu'il fut possible de réserver une table (la numéro 60). A cette occasion j'exposerai bien sûr des chaises Louis XVI, des fauteuils gustaviens, une banquette mais aussi deux tables rondes à rallonges en noyer (une grande et une petite). A très bientôt donc ;)
***
No article since October but a lot of work has been done, every evenings, after a long day at work I sawed, sanded, upholstered, gilt, painted toward the dollhouse festival in Paris (SIMP) on June 25th, 2017. For this occasion I made chairs, a wall of Louis XVI panelings with doors and a chimney, 2 armchairs, 1 settee, 1 bench, two dining tables... and some other little things. All those miniatures have been realised for the Paris dollhouse show where I will meet you with pleasure =)
Here is a glimpse of what I will display :
Pour la décoration des chaises à dossier en lyre et pour la banquette à l'avant-plan de la scène, j'ai utilisé cette image d'un carton de tapisserie d'Aubusson que j'ai modifiée pour être adaptée à la forme de l'assise. Je l'ai déclinée en plusieurs couleurs aussi (bouquets polychrome avec fond vieux rose, lavande ou vert amande; bouquet en camaïeu de rose avec fond rose plus clair pour la banquette).
***
The lyre-back chairs have been upholstered with a Aubusson tapestry that I modified to adapt it to the chairs and the bench. I made different versions, polychrome with various background color lavander, rose and almond green; and shades of rose for the bench.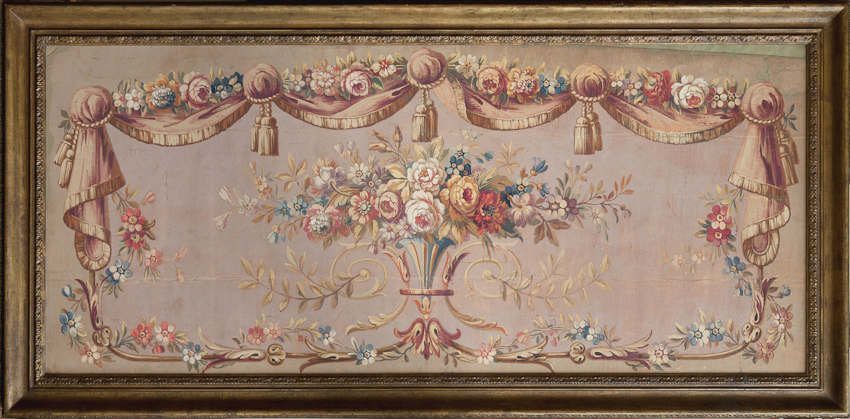 Je présenterai également six chaises à dossier carré et pour décor un mur de lambris de style Louis XVI.
***
I will also propose six Louis XVI chairs with green fabric and for decoration a wall of Louis XVI panelings.